About Jeremy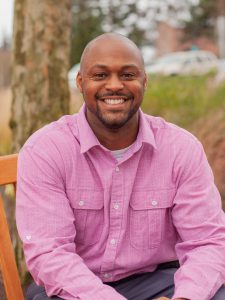 Jeremy Barksdale is ready to bring his experience as a business and community leader to the Bellevue City Council. Jeremy currently works as a User Experience Researcher for Unity, a game development platform company based in Bellevue, and previously filled a similar role at Microsoft. Jeremy has worked across many sectors–the U.S. Government, IT consulting, and as an adjunct faculty member at NC A&T State University and the University of Washington.
In his community, Barksdale currently serves as Chair of the Planning Commission for the City of Bellevue, Co-chaired Bellevue's Wilburton Commercial Area Citizen Advisory Committee, is a board member for Fuse Washington, is a member of the 2019 class of Leadership Eastside's Leadership Enrichment Program, and serves on the Board for Leadership Eastside as the 2019 Class Representative.
Barksdale earned his Ph.D. in Computer Science and a Master's in Public Administration from Virginia Tech. Prior to entering his PhD program, he earned a B.A. in Broadcast Production with a minor in Business Administration, and an M.S. in Computer Science with a concentration in Software Engineering from NC A&T State University.
"I believe my experience with technology and business, combined with my roles in the community, give me the right perspective to help navigate Bellevue's growth and changes. My background as a User Experience Researcher can be especially helpful as the city works with local neighborhoods to ensure changes enrich our city."
Jeremy's personal interests include volunteering in the community, playing musical instruments, singing, reading, hiking, and biking. He lives in south Bellevue.
Jeremy needs your help to win this race! Contribute to the campaign by donating or volunteering. Reach out to campaign@jeremybarksdale.com with any questions.